More than analog to digital voice.
Reliable, clear communications for people and things.
Retain your investment in analog devices – and avoid being cut off by service providers' end-of-life actions.
Making changes in enterprise networks to move from POTS lines over analog T1, copper services by switching to fiber is easy. Figuring out what to do with the multitude of analog devices is not.
That's where ConnX's Award Winning POTS Digitization solution comes in.
As part of our solution, we connect to any and every analog device, then convert the analog signal to SIP to transport to PSTN – with no interruption to service – quickly and efficiently.
Millions of businesses around the world still rely on analog, copper wire networks for devices that run on dial tone, including desktop phones, fax machines, key systems, fire alarms, point-of-sale devices and more.
Major carriers continue to sunset support for Plain Old Telephone Service (POTS) and will disconnect all landlines by 2025. There is no reason to wait to digitize your POTS connections! The benefits are tremendous, and the ROI is proven with cost savings up to 1/3 compared with expensive fixed analog lines, many of which are often no longer in use but drive up monthly expenses unnecessarily.
ConnX POTS Digitization simplifies the process for our clients, including many Fortune 500 companies, so they no longer rely on outdated, failing infrastructure. Don't let others scare you: Transforming your analog connections to digital while supporting the same end points is not a "rip and replace" measure when you work with ConnX. Our "integrate to migrate" methodology is tested, straightforward glide path that allows your existing system to coexist while we digitize the copper phone wire, allowing it to work without interruption.
It will continue to work – only better.
You'll see every end-point thanks to the ConnX platform and know exactly how they are performing – or not.
Telephone lines and other services that rely on the PSTN are being moved to fully digital (IP) networks. It's not just voice services that will be affected. There will be an impact on some broadband services and lines used for things like alarm monitoring, access control and other systems.
POTS Digitization Branch View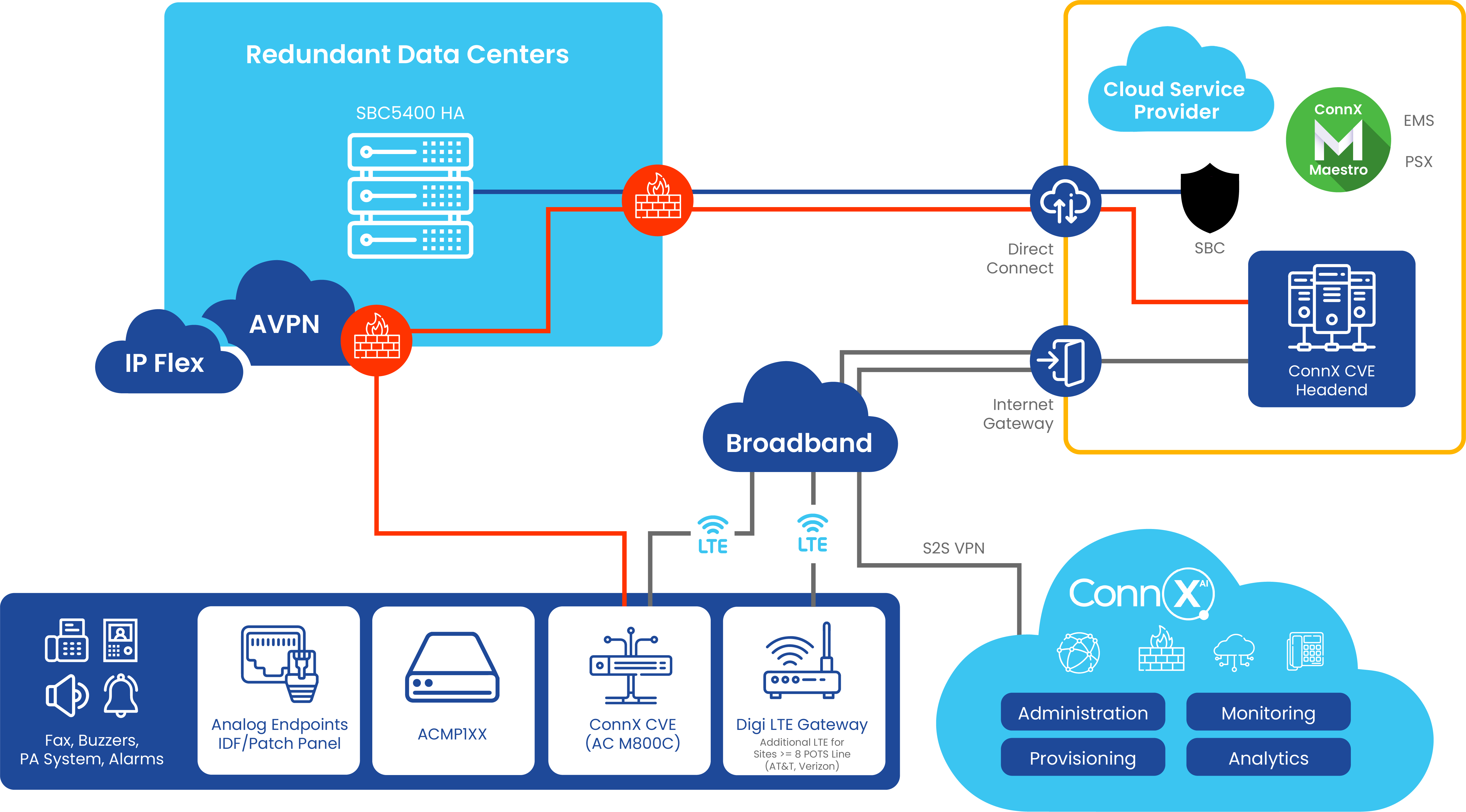 The above illustration is just one example of how ConnX implemented a large POTS Digital Transformation project for a highly distributed enterprise. The ConnX team has a proven approach and project plan that removes risk, accelerates modernization, improves quality and resilience and lowers cost.
Contact us for a free analysis of your legacy lines and to receive a complimentary glidepath recommendation.
Branch sites transport resiliency
Zero Touch Provisioning (ZTP) makes set up faster
Centralized orchestration makes it easy to scale
Centralize monitoring tool manages CVE in AWS, branch CVE and gateways
Session and call preservation during failover
Cost-effective
Unlock Cost Savings While Dramatically Improving Quality of Service
Technical

Replace POTS service (Alarm, Buzzers, Fax, etc) with highly available, SIP based solution
Preserve and retain critical analog endpoints and transform and retire site-based POTS service to a centralized, highly available SIP solution

Feature/functionality

Interoperate and normalize voice service to deliver seamless solution

Supports legacy fax and other analog endpoints 

Geography

Local, Distributed, National, International

Security and Compliance

Must meet highly available and health and safety compliance requirements
Support for Fire, Elevator, Intrusion Alarms Systems analog requirements

Operations

Determine existing number of sites with active POTS Lines
Add  visibility today of monitoring, analytics and management down to the endpoints
Avoid future POTS line outages for critical services
Contact us for a free analysis of your legacy lines and to receive a complimentary glidepath recommendation.