Software Defined,
Globally Available,
Fully Supported.
ConnX Customizes AI SD-WAN deployments to deliver the highest quality network performance for truly unified, cloud-based collaboration and communication enabling agile digitization.
ConnX AI SD-WAN is a Service framework designed for integrating HQ, DC, Cloud, Branch & Remote Work locations & Mobile centric networks, designed around policy-based secure access for Enterprises to quickly deploy and adapt to the benefit ConnX AI SD-WAN journey with end-to-end guidance from ConnX experts.
ConnX AI SD-WAN is a complete end to end Managed ConnX AI SD-WAN Service offering that accelerates the adoption and deployment of ConnX AI SD-WAN solutions for enterprises.
ConnX Global Software Defined Network Platform
Built-in service and security assurance with 24/7 support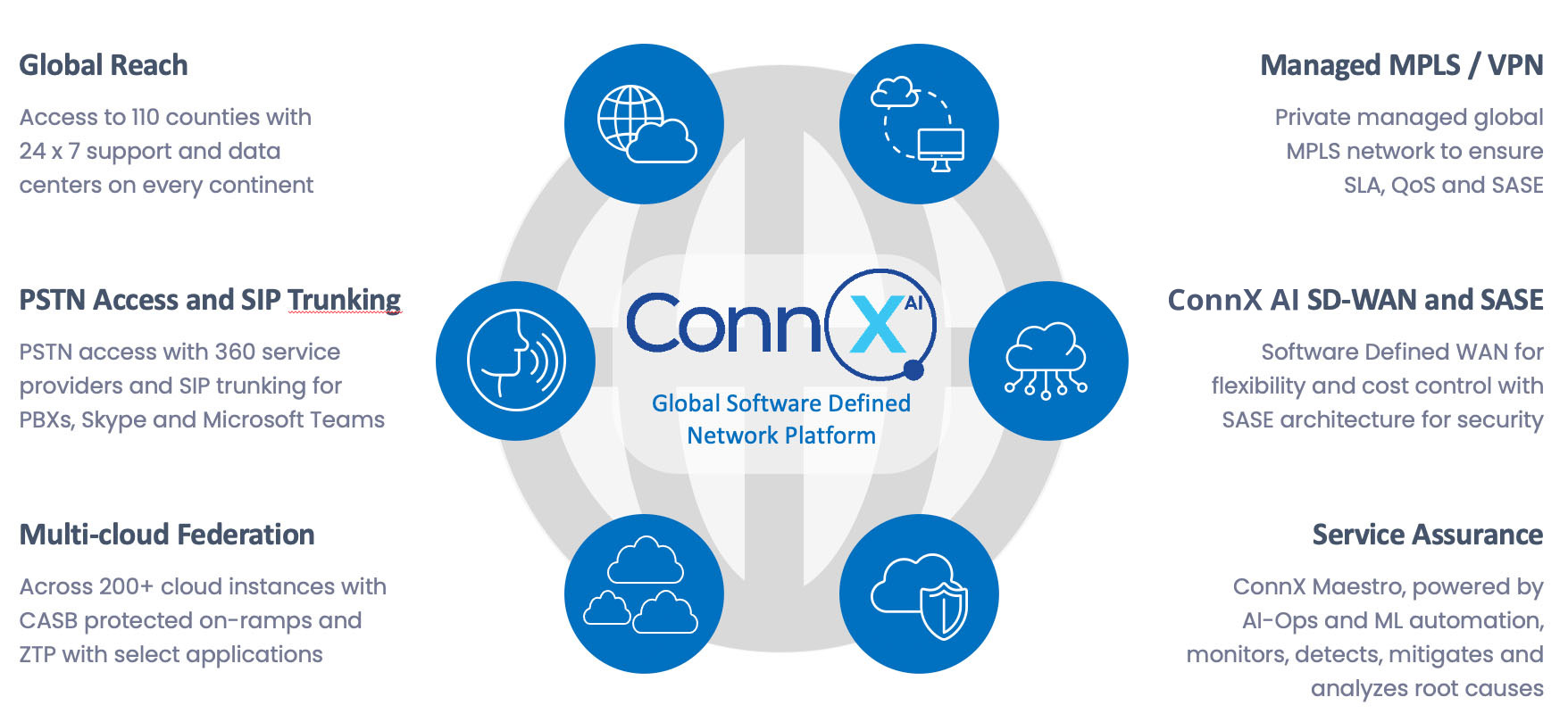 ConnX AI SD-WAN hardware on simple OpEX Model or CapEX
ConnX AI SD-WAN Software Features & Licenses
Deployment services (Remote & Onsite)
AI-ML based Maestro Portal as Single Pane of Glass for Orchestration & Performance monitoring
Day2 Support : ITIL Service desk & ticketing system
Unshackle from traditional WAN
Optional Advanced Services for ConnX AI SD-WAN
Bring AT&T as carrier with Broadband, DIA, MPLS, LTE, VSAT agnostic to Transport
* Optionally Telco Connectivity can be procured by ConnX " case to case " Subject to feasibility
Cloud Security Service Chaining
Secure Web Gateway (SWG)
Zero Trust Network Access (ZTNA)
Firewall as a Service (FWaaS)
Cloud Access Security Broker (CASB)