ConnX AI Powered SD WAN
Reduce Cost
Secure Connectivity
Integrate Disparate Technology Platforms
ConnX SD-WAN solutions can be standalone to solve your most challenging data network requirements or they can be fully integrated with ConnX Communications and Collaboration for a one of a kind user experience.
Features and Benefits of ConnX AI Powered SD WAN:
+ Tunnel free technology eliminates 30 to 50% of wasted bandwidth
+ Automation and Zero touch provisioning for precise and rapid deployment
+ Granular network visibility reduces impairments and trouble resolution time
+ Zero trust ensures session integrity and effective security
ConnX AI Driven Enterprise (AIDE) is a Service framework designed for integrating HQ, DC, Cloud, Branch & Remote Work locations & Mobile centric networks, designed around a policy-based secure access SD WAN augmented by AI and Automation for rapid deployment and unparalleled service assurance.
ConnX SD-WAN is a completely integrated, end to end Managed Service offering that solves major problems most enterprises face when they experience service impairments.
Identifying the impairment is 90% of the battle but how can I determine if the problem is in the carrier network or somewhere in my network if I don't have end to end visibility? We've all been there. ConnX AI Service Assurance is the solution.
ConnX Everywhere, ConnX Anywhere
ConnX Global Software Defined Network Platform
Built-in security and service assurance with 24/7 support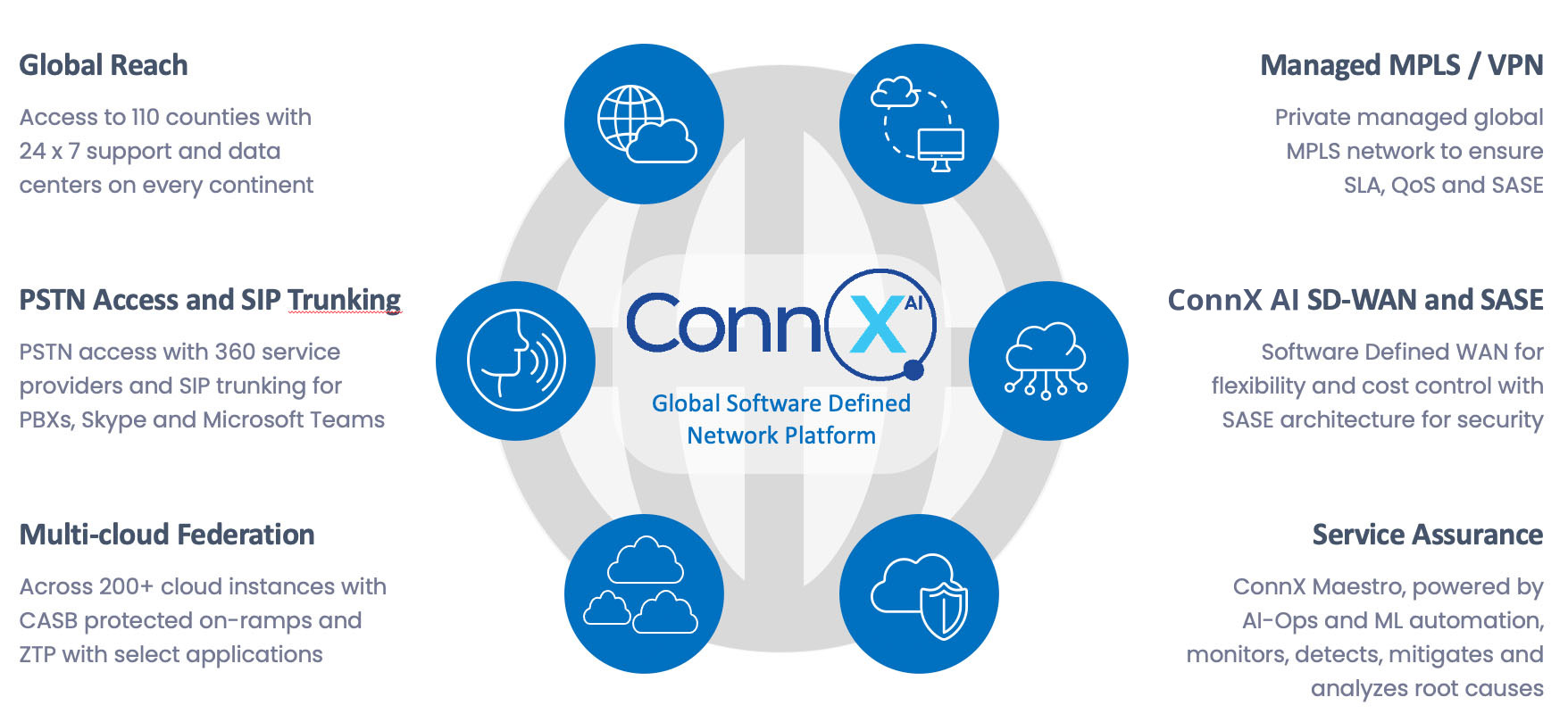 ConnX AI SD-WAN hardware on simple OpEX Model or CapEX
ConnX AI SD-WAN Software Features & Licenses
Deployment services (Remote & Onsite)
AI-ML based Maestro Portal as Single Pane of Glass for Orchestration & Performance monitoring
Day2 Support : ITIL Service desk & ticketing system
Unshackle from traditional WAN
Optional Advanced Services for ConnX AI SD-WAN
Bring AT&T as carrier with Broadband, DIA, MPLS, LTE, VSAT agnostic to Transport
* Optionally Telco Connectivity can be procured by ConnX " case to case " Subject to feasibility
Cloud Security Service Chaining
Secure Web Gateway (SWG)
Zero Trust Network Access (ZTNA)
Firewall as a Service (FWaaS)
Cloud Access Security Broker (CASB)