Redefining Service Assurance Leading the Way
Increasingly complex networks require increasing investment into monitoring and managing those networks, which can generate millions of alarms a day. Enterprises need the ability to quickly understand what alerts and alarms are critical and how to resolve them.
ConnX Service Assurance packages decades of expertise into a monitoring, management and analytics engine, and adds the power of artificial intelligence to sort through millions of datapoints, and to bring the right solution to the forefront, quickly.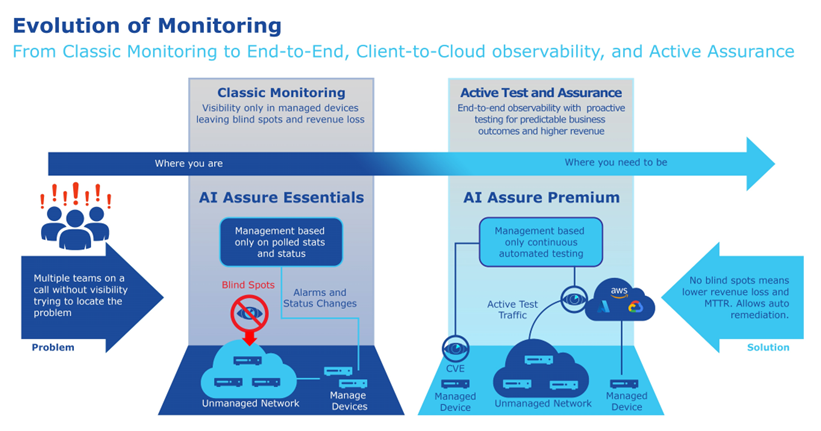 Sign up for our newsletter to download our AI Assure Solution Brief
Built-in service and security assurance with 24/7 support for our NOC and SOC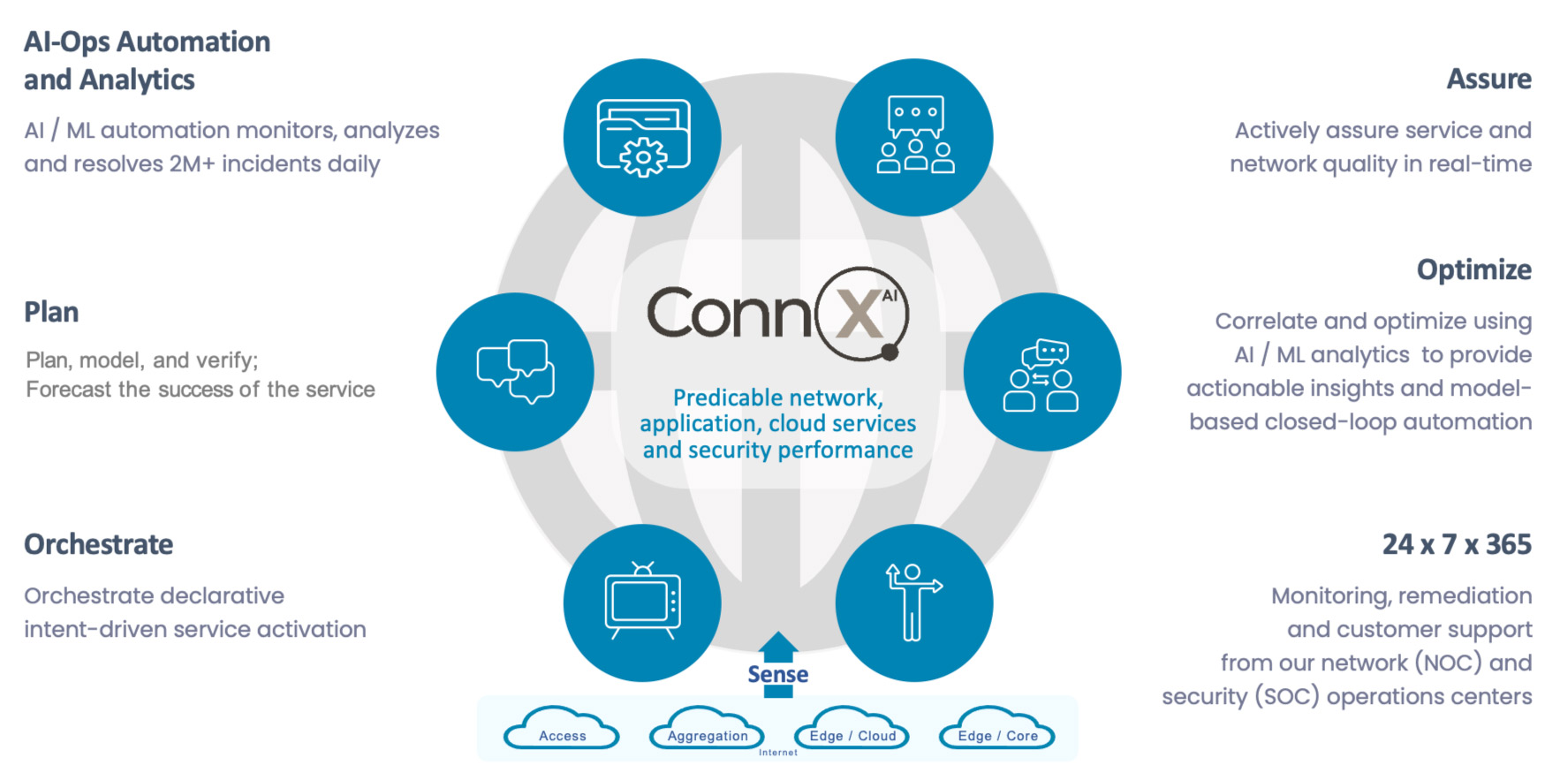 ConnX AI Assure delivers powerful monitoring capabilities leveraging AI-Ops-based predictive analytics and machine learning capabilities to identify any issues before they impact network performance and to provide intelligent data for advanced decision making.
The true value of AI Assure is that it understands and reports on how the actual packets of a conversation are being handled on the network and notifies in real-time call quality – exactly how the network treats an individual user's conversation.
AI Assure provides proven integration of Microsoft, and Avaya UC networks via a single monitoring solution. It speeds the adoption of ConnX MS Teams, ConnX AI SD-WAN deployments and saves valuable time, resources, and money.
Visualization of historical trends allows for executive-level tracking, management, and decision making in order to improve the user's experience, anticipate operational issues, and improve capacity planning.
ConnX Service Assurance (SLA)
Built-in network, security & service assurance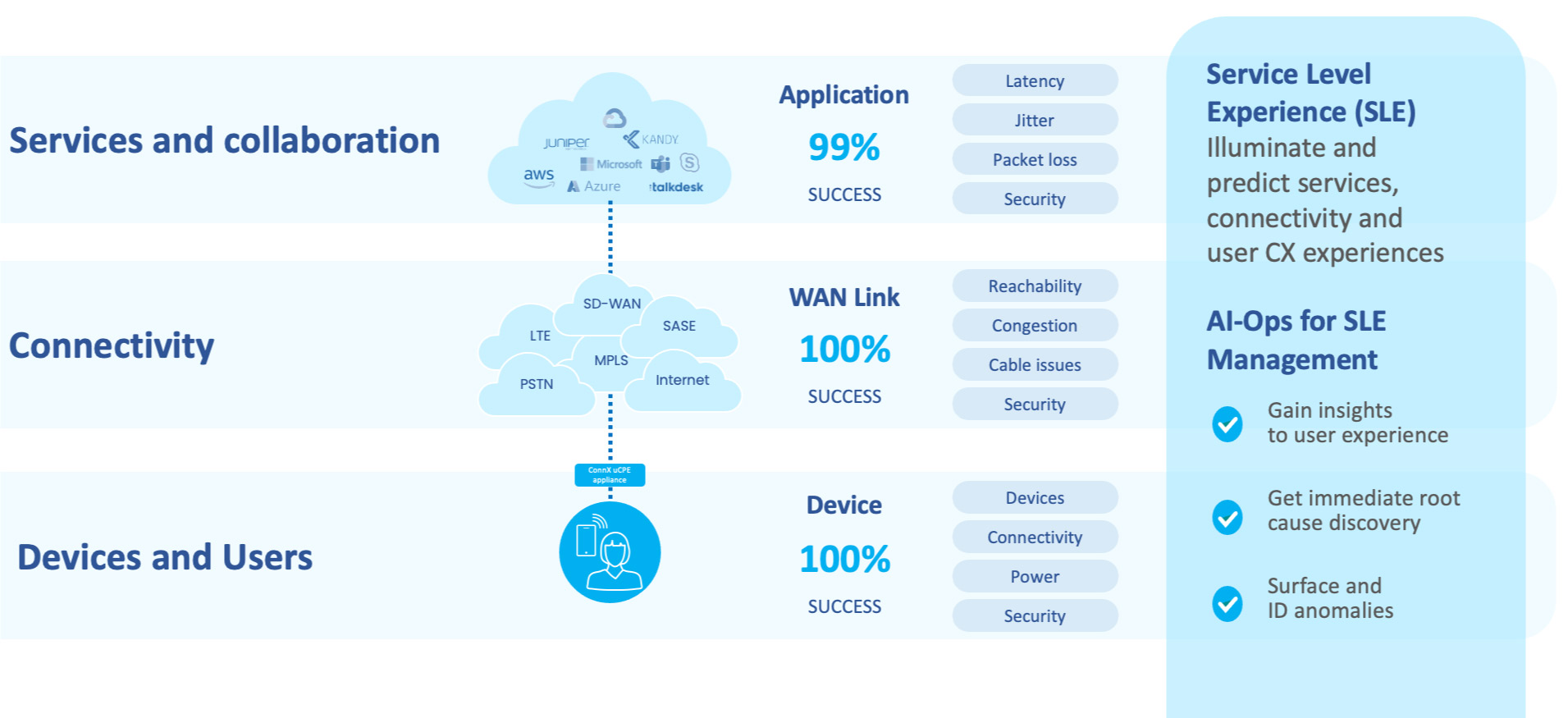 Beyond Service Assurance:
Security Assurance
Monitoring, operational
support and intelligent reporting
The growing need for AI-driven monitoring, diagnostics and analytics insight are major priorities for support of real-time UC services.
To securely deliver and monitor UC services for anomalous behavior, ConnX monitoring capabilities provides a unified dashboard that combines all diagnostics capabilities via a comprehensive, correlated 'single pane of glass' view to provide alerts, key health indicators and real time session health, tracking all legs of call, session-specific network event correlation, continuous session signaling analysis and reporting.
Our team works to redefine performance.
Proactive AI/ML behavioral learning and automation assures detection and alerts to identify poor call quality causes and provides immediate notification of relevant network events.
ConnX leverages network and application layer instrumentation to deliver a wealth of real-time performance data and presenting the data in a way that is immediately actionable.
Facilitates media fault isolation to quickly 'bracket' the source of performance problems, subsequently providing instant visibility and analysis to demonstrate the true end-user experience.
Network Path and Event Correlation enables site-based session tracking and reporting to help identify systemic versus local failures. Insight into Complex Call Flows allows rapid identification of all legs of a call.
Pulls together all diagnostics capabilities via a comprehensive, correlated 'single pane of glass' view. Provides an easy-to-interpret presentation of all events and user experience metrics.
Facilitates fault isolation and problem resolution by reducing the need for expert resources to analyze events and identify the root cause.