Smarter, simpler, more secure and scalable real time communications services for today's global enterprises.
ConnX Global Multiservice Communication as a Service Platform
Simplify enterprise connectivity, collaboration, and service & security assurance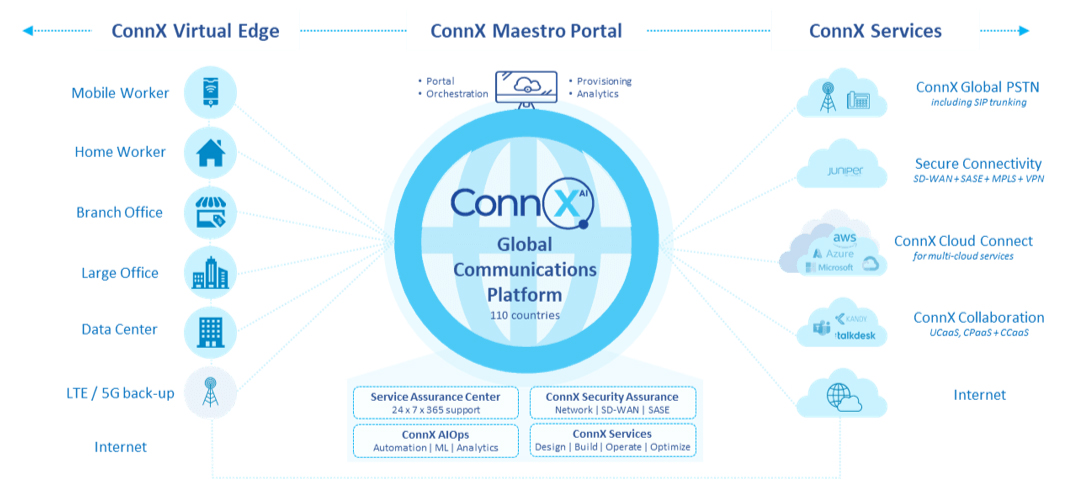 A world of real time communications services delivered over a unified platform. Secure and scalable, monitored and managed over a powerful, intelligent and intuitive portal.
ConnX Global Software Defined Network
Collaboration and Unified Communications
Microsoft Teams PSTN and Other Services
ConnX Maestro Orchestration Platform
ConnX Security as a Service
The Digital Transformation Imperative
Seismic Disruption: The new work from anywhere and 5G mobile workforce. What will it take for enterprises to compete today and in the future?
Join the ConnXUnity Partner Community
As a ConnX ecosystem partner, you will enjoy a range of benefits designed to nurture and strengthen our relationship and collective goals. We work with the world's finest technology companies to enrich our platform and offering, and work closely with distributors, agents and other companies who are proud to bring ConnX solutions to their customers.
Thirty years of proven results in enterprise networking, collaboration & security