Digital transformation has become the foundation for every aspect of business, and as more applications and services are moving to the cloud, and more access is happening at the edge with the unstoppable rise of remote and hybrid working, the attack surface continues to expand, often faster than it can be defended.
From SMBs to large global enterprises, rapidly evolving new threats and an overwhelming increase in the volume and velocity of attacks are driving leaders responsible for protecting their organizations from harm to move to turn to Security-as-a-Service options.
The mission seems impossible, given the broad range of threats. IT teams must identify cyber risks, detect threats, and respond to incidents continuously and rapidly, and unless they have the right people, processes and automation – and a massive budget for people, multiple platforms, multitude licenses -they will not meet the moment.
Security operations in today's world is fraught with too many challenges.
We saw this coming many years ago, and began building our Security-as-a-Service cloud based offerings years before the pandemic forced every organization to support thousands or even hundreds of thousands of distributed workers. Our customers needed more cyber security protection, but they needed it in a flexible way that aligned with their tightening budgets and in some cases, threats of fines as regulations became more forceful and complex.
Organizations must keep up with dynamic cyber-threats across public networks, cloud infrastructure, cloud storage, business applications, collaboration tools, and new types of devices.
This appears to be "mission impossible" using disconnected tools, manual processes, and a lack of security skills among a limited number of IT personnel. With the right Security-as-a-Service managed service provider, integrating security up and down the entire IT stack, with full observability and control, and with AI behind the scenes making next level automation possible – sleepless nights can become a thing of the past.
Organizations utilize a multitude of security data sources and tools for security operations to identify and mitigate cyber risks, detect threats quickly, and respond to incidents immediately, and even those large enterprises who run their own security operations centers (SOCs) struggle with disconnected point tools, manual processes, and a global cybersecurity skills shortage.
ConnX offers a rich portfolio of security solutions which cover voice, data, collaboration which are integrated and orchestrated all the way to the granular edge of today's distributed private and public networks, and we excel at doing so because of our decades of experience, and continual investments in platform and software development which make addressing the scale and complexity of security operations altogether possible.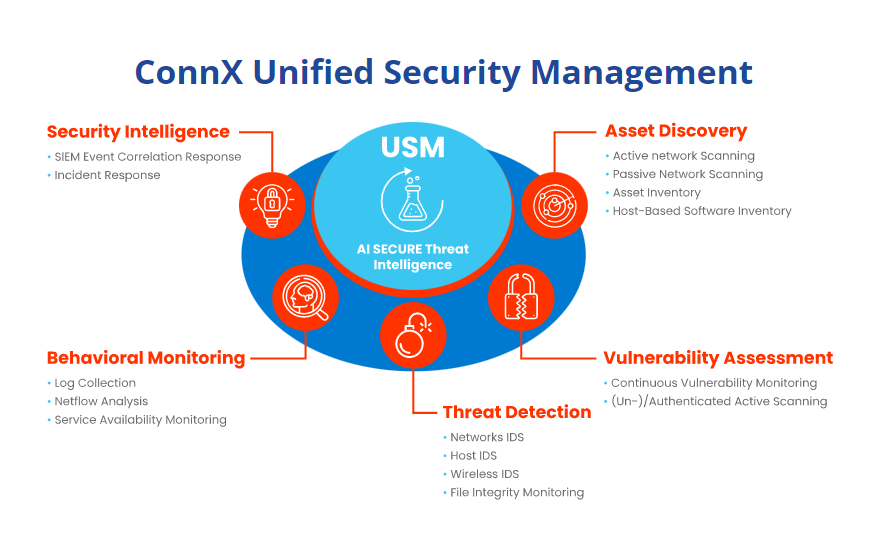 We work with the best partners in the world to deliver a unified, simplified and economically beneficial security solution to our customers.
Our success has been found by bridging security operations gaps, designing and delivering security process automation and orchestration, and moving security operations technologies to the cloud, as migration of "everything" to the cloud continues given all the natural benefits of consuming services without any upfront Capex, and flexible Opex.
Without the technology and service providers we work with, the ambitious mission we took on – to bring not just network or applications assurance but security assurance up and down the tech stack, in the core, in the cloud, and at the edge, would have been impossible.
Mission Possible With ConnX: We Have Our Customer's Backs
Our security experts who run our SOC, have all the technologies and tools they need, deeply automated and proven, and with those tools, and in concert with IT and OT teams, have made it possible for us to offer a complete Security-as-a-Service solution, saving our customers half of what they would need to replicate our ability to not only connect – but protect.
This week at ITEXPO, our CEO Indrajit (I.G.) Ghosh shared our experiences with esteemed cyber security professionals as part of the Future of Work Expo's panel, "Ensuring Cybersecurity and Privacy with a Hybrid Workforce."
Panelists included David Barton, CTO, Highwire Networks, David Jodoin, moderator, and Partner at Virtuco, and Brett Shockley at Journey.ai.
Contact us to set up a meeting with our leadership team in Ft. Lauderdale, or to schedule a demo so we can share how we've built what we have built, how we are constantly investing in and developing our cyber security offering, and how we make it easier and far less expensive to secure our customers' mission critical infrastructure.