You may notice that the last two letters of our company's website URL are "ai."
Connxai.com is not an accident.
We have been pioneering the development of hyper-connected, hyper-smart, and hyper-secure network and application management solutions for enterprises for well over a decade.
As AI and its cousin, Machine Learning (ML), have many roots in network operating systems, going back to the birth of telemetry, which coincided with the arrival of the Internet and Voice over IP (VoIP), which completely disrupted the telecom industry as it reduced the cost of long-distance calls and unlocked the "toll-free" call center evolution in the 1990s.
(Telemetry is the process of collecting data from equipment and reporting it to our Network Operations Center (NOC), allowing our pool of administrators and engineers to respond to anomalies and events from remote sources).
Decades before, AT&T rolled out a new service called InWATS as an alternative to operator-assisted collect calling in 1966, which had very few features, including no access to call detail records.
Some companies owned toll-free numbers, but AT&T had a monopoly and charged a premium for the service – a fixed-rate bulk service with private trunks; in 1984, however, a federal judge ordered the monopoly formerly known as "Ma Bell" to split into seven different regional companies called "Baby Bells."
Competition caused rates to drop, 1-800 numbers became affordable, and within years nearly every business owned its own 800 number.
Vanity numbers came into existence shortly after the dissolution of Ma Bell. Then a law was passed that guaranteed number portability in 1994. This law ensured that a company could keep its vanity number or toll-free number when changing providers.
While the Internet and email have drastically altered business communication, toll-free numbers for business are still very effective but no longer as required given the many channels that customers can now use to contact organizations using "Push-to-Talk" phone applications, text, email, and more.
What has not gone out of style, and will never go out of style, is the need to deliver audio quality so solid you can "hear a pin" drop, a saying made famous in a Sprint television campaign decades ago.
While VoIP technology radically changed the landscape, especially early on, the quality was unpredictable, with calls dropping, audio fading away, other parties sliding into conference calls mysteriously, and more.
Just when the telecom industry thought they had cracked the code on VoIP quality, the move to mobile happened, followed by the work-from-anywhere revolution, once again changing the rules and driving innovation.
We have a long history of integration and innovation at ConnX. We are perpetually out to find better ways to improve every call, every collaboration, and every conversation. We are succeeding, tapping into the best software partners in our ecosystem and writing our own code.
According to IDC, organizations in all industries are increasing their investment in AI, and the global spending on AI-Centric Systems will pass $300 billion by 2026.
According to IDC as well, the WLAN (Wireless LAN) market is exploding in parallel, and this is all of one piece. The enterprise segment of the worldwide wireless local area network (WLAN) market reached its highest quarterly revenue ever in the fourth quarter of 2022 (4Q22), rising 47.9% year over year to $3.35 billion. The market grew 31.4% year over year for the full year 2022, with revenues reaching $10.0 billion.
Because we design, engineer, and operate hundreds of enterprise networks and guarantee the performance of applications, especially those which are offered "as-a-service" via cloud infrastructure, we adopted and developed software that allows us to actively assure availability, quality, and security across every endpoint on the network, every VM, and every on-site piece of gear, depending on what our customers need.
The only way to do this the right way is to embrace what was telemetry and is now AI given the "borderless enterprise" that expanded, given the many benefits of remote working, whether from home, from a hotel room, from a plane, train, or automobile.
This takes observability into the network but, beyond that, an unprecedented amount of sophisticated automation that requires no human intervention. Cyber security attacks have driven requirements even harder and faster, and today – what makes ConnX unique – is that we have integrated all of this and made observability of everything that happens on the network and at the edge.
We've been AI pioneers, and our customers have benefited, and yet we are only getting started.
While widespread adoption of AI has proven its effectiveness in digital strategies across the telecommunication sector, there are still challenges, including poor network management, lack of data analysis, high costs, and a confusing marketplace full of broken promises.
This is not just about "AI" and "ML" it is about the ability to put the intelligence to its highest use and purpose, and that requires programming, analytics, robotic process automation, and more to truly manifest consistent, predictable, and low latency network, device and application performance.
Increasingly complex networks require increased investment in monitoring and managing those networks, which can generate millions of alarms a day.
Our enterprise customers count on us to quickly understand what alerts and alarms are critical and how to resolve them. Our ConnX Service Assurance packages decades of expertise into a monitoring, management, and analytics engine and adds the power of artificial intelligence to sort through millions of data points and to bring the right solution to the forefront quickly.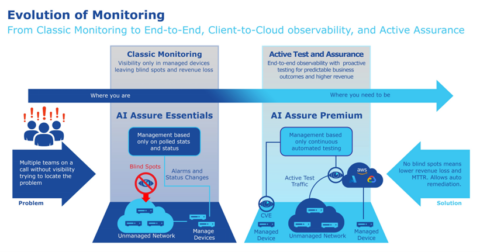 ConnX AI Assure delivers powerful monitoring capabilities leveraging AI-Ops-based predictive analytics and machine learning capabilities to identify any issues before they impact network performance and to provide intelligent data for advanced decision-making.
All services are supported 7×24 by ConnX AI Service Assurance Team, using AI and Automation to deliver unparalleled customer service and predictable user experience.
This is especially important in the "AI Everywhere" era because to take full advantage of AI-based applications, including Conversational AI, for use in customer service settings, organizations need not just smart networks, but intelligent infrastructure that works at the edge, the core, and in the cloud.
Reach out to me to learn more about where ConnX is taking AI next!